This is the page where I'll describe myself in more detail.
I am deaf person who are my really full name is Luis Balmore Reyes Hernandez, I was born in San Miguel, El Salvador, if still you same favorite me for always him better he is much the friends enjoy for deaf people in El Salvador.
I was born on the 31th of december 1982 in San Miguel, El Salvador.
I am full deaf, for my first lenguage is Salvadoran Sing Language (LESA), so I learned American Sign Language (ASL). I have been a trouble with Spanish and English. That is sure!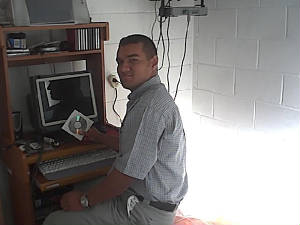 If to me was study to computer that sistems are one programs several by much and also me idea many porgrams etc.. but when I like contacts get a chat in the country, i also to member of the deaf people if easy make to community is yet many feeling well same up.
Today is my give one testimony, how i am christ is truth to the member are important many at Church do you know witch are where is my church in Iglesia Tabernaculo Bautista (I.T.B.) in San Miguel and too by deaf class to studente on Bibile by teach a heaning guide the bible, I first time in the church do since 1994, with my was accept Jesus to save, year later in the 2000 and i say lord me was baptim to obey is God yes had take decision for me was baptist already to save, me serve a God also support in deaf people and see i am worked gospel something a deaf on the publish always are consolation make tell now is very God thank give glory amen...
Okay, you already know about me right! Thank you for read my message in history in your spare of time. Hope you would like it!!! If you had questions then send me... Remember I don't write good English Ok...